Bolts, Nuts, Fittings, Washers, Rivets, Screws, Inserts and Pins.
Doran Specialties is certified to ISO9001:2015.
Distribution of Commercial and Aircraft Fasteners/Hardware.
Resources with specification information including charts to assist you with your orders.
What We Offer
---
Doran Specialties is a distributor of a variety of AN, MS, NAS and BAC certified fasteners. Including Bolts, Nuts, Fittings, Washers, Rivets, Screws, Inserts and Pins.
Doran Specialties is a small business-woman owned and ISO 9001:2015 Certified. We supply both commercial and MIL-SPEC fasteners to large, high volume customers as well as those with much smaller needs.
---
Doran Specialties is proud to announce that we are now ISO 9001:2015 certified. To become ISO 9001:2015 certified, Doran Specialties underwent an evaluation process that included: quality management system development, a management system documentation review, pre-audit, initial assessment, and clearance of non-conformances, all of which work to identify corrective actions that eliminate non-conformance to the quality management standard.
Read More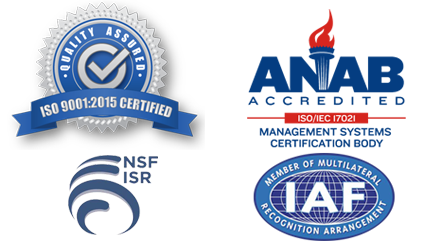 WASHERS
---
Flat, locking (tooth, split and square cone), belleville, crescent, wave, beveled and finger washers, as well as an assortment of specially designed washers are available. These washers can be provided in a host of materials such as steel, stainless steel, nylon, fiber, teflon and fiberglass etc.
INSERTS
---
Inserts can be obtained in either coiled or solid fabrications. Inserts are generally stainless steel, steel, brass, or aluminum. Inserts are also available with a locking feature that locks the installed part. The determination of whether to install coiled or solid inserts is dependent upon application. Mil-Spec applications are the most common applications.
PINS
---
We provide dowel pins that are generally hardened steel or stainless steel. Special pins are available in slotted (rolled), coiled (spirol), solid, and grooved types. Quick release pins are also available to both Mil-Spec and commercial requirements. An assortment of platings are also available including zinc, cadmium, and phosphate.