CERTTIFICATIONS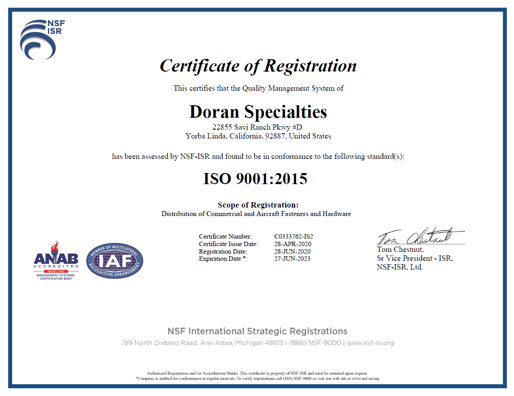 ISO Certification Announcement
Doran Specialties Achieves ISO 9001:2015 Certification
VIEW CERTIFICATION
Doran Specialties is proud to announce that we are now ISO 9001:2015 certified. To become ISO 9001:2015 certified, Doran Specialties underwent an evaluation process that included: quality management system development, a management system documentation review, pre-audit, initial assessment, and clearance of non-conformances, all of which work to identify corrective actions that eliminate non-conformance to the quality management standard.
Doran Specialties' decision to become ISO 9001:2015 certified is a proactive one that not only anticipates the demands of our customers, but also demonstrates our commitment to providing quality products and services.
WHY CHOOSE US
EXPERTISE
Doran Specialties supplies aircraft hardware including bearings, bolts, bushings, captive fasteners, clamps, connectors eyebolts, fitting, inserts, keys, knobs, locking fasteners, hook and loop fasteners, machine screws, nuts, nylon fasteners, O-rings, pins, and plugs.
LARGE INVENTORY
Doran Specialties is a distributor of a large array of aerospace fastener components including nuts and rivets in many materials as well as configurations including cap nuts, left hand machine screw nuts, square tee nuts, weld nuts, wing nuts and many more.
BRANDS
Doran Specialties distributes AN, MS, commercial, blind, and tubular rivets. The company supplies various AN-MS-NAS-BAC specified parts manufactured by Alcoa, Amaton, Amp, Assoc. Spring, Concord, ESNA, H.N. Smith, Hollingsworth, Molex, Panduit, Parker Seal, PIC, RAF, Richco, Seastrom, Shakeproof, Southco, Tinnerman, Useco, Waldes Truarc, and Zierick.